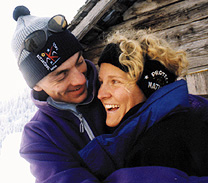 Mountains, forest, climbing rocks, a lake and sunshine - this is the mix that makes us happy! Combined with close friends and a lot of time to laugh together.
Any spare minute we spend in the mountains. In winter we go skitouring and in summer we love mountainbiking, climbing and hiking. What about you? Come and join us on a tour!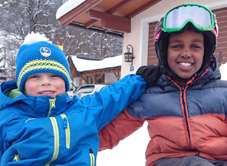 Photos from "good old times" :-))))
Yadisin (meanwhile 16 years old) and Niklas (now 13 years old) still are passionate for winter sports: skiing on slopes and powder skiing and having fun with their Zipflbobs. In summer they play soccer in the local soccer team and enjoy downhill biking and - very important at their age now - they know the bests spots for CHILLING (in the garden, by the lake, on the terrace - they ALWAYS find a perfect spot for not doing anything!!!!
Yadisin & Niklas